The test detail page lists each of the test cases that TAME generated from your test specification (workbook).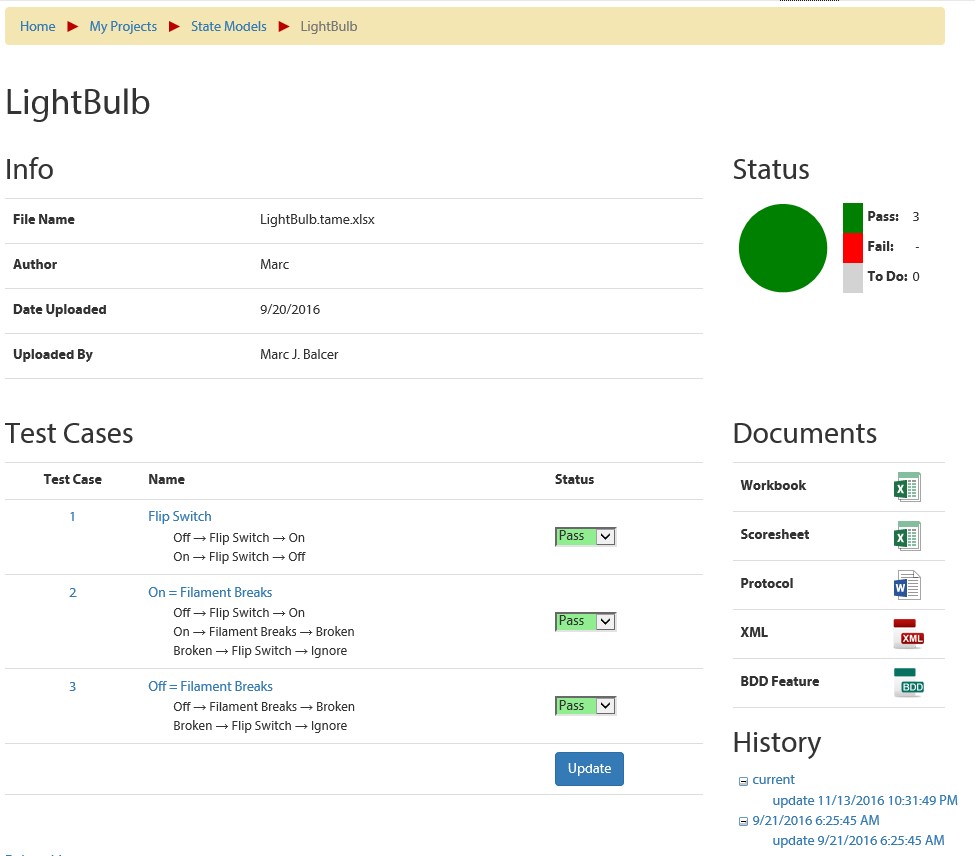 Test Case List
Click the number or name of the test case to go to the test case detail.
The status indicators indicate whether a test case passed, failed, or remains to be run ("to do").
To update the status of one or more tests:
Select the status from the drop-down list.

Do this for each test to be updated.
Click the Update button to record the new statuses.
Info
Properties of the test. Some are defined in the test workbook; others are set when the test workbook is uploaded.
File name - the name of the workbook as uploaded.
Author - the author of the test workbook as defined in the workbook's Author property.
Date uploaded - the date / time when the current test workbook was uploaded
Uploaded by - the TAME user who uploaded the test workbook and generated this set of test cases
Status
A pie chart that indicates the number of tests that have passed, failed, and remain to be run.
Document List
Click the file icons to download the test documents
Workbook - the originally uploaded test workbook. Note that if the test workbook contained errors, the workbook icon will contain an error indicator. Click this error indicator to see the errors in the workbook,
Scoresheet - a spreadsheet listing each of the test cases, their steps, and choices of inputs, environment conditions, and values.
Protocol - a single document containing all of the test instructions.
XML - an XML representation of the protocol and results.
BDD - the tests' behavior-driven-development code (sometimes referred to as Gherkin or Cucumber)
History
The History section shows all of the versions of the test workbook and updates to the test results.
current - the current version of the test and its results
prior uploads (top levels in the tree) - previous versions of the test
updates - previous versions of the test results